News
Komme hjem i oss selv.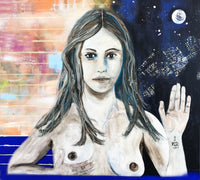 Jorden er helt uanfektet. Det spirer og gryr til vår. Fuglene kvitrer den lyse tiden velkommen. Vi som er endel av jorden er i frykt og forvirring. Vi har ikke kontroll. Vi ønsker å kontrollere men Moder jord ønsker å hente oss hjem. Hjem i oss selv, til samspill og harmoni. Hun vil vi skal falle på plass og være i samklang med det som er liv, ikke kontrollere det! Rytmen hennes slår i takt med våre hjerter. Det lille frøet som spirer, det er liv, det er oss menneskene. Hun gir oss det vi trenger. Finn fred med deg selv og se at alle er uskyldige. De er alle det lille frøet, spiren, som trenger å være koblet til jorden for å få næring. Alt annet er en flukt fra sin opprinnelse.
Det du ser er deg,
du er endel av alt.
Det du gjør mot henne,
gjør du mot deg selv.
Elsk henne, elsk deg selv.
Kjenn hennes varme, din varme.
Se hennes renhet, din renhet.
Kjenn hennes hjerteslag, de slår i takt med dine.
Fordi dere er ett.
Blomstre med henne, leve med henne. Vær endel av alt.
Aldri la deg frykte fordi det er ikke hennes hensikt.
Bli med henne i kjærlighet.
Vær jorden!
*
The earth is completely unaffected. It sprouts and germinates in spring. The birds welcome the bright time. We who are part of the earth are in fear and confusion. We have no control. We want to control but Mother Earth wants to bring us home. Home within ourselves, for interaction and harmony. She wants us to fall into place and be in tune with what is life, not control it! Her rhythm strikes with our hearts. The little seed that sprouts, it's life, it's us humans. She gives us what we need. Find peace with yourself and see that everyone is innocent. They are all the little seed, the seed, that needs to be connected to the earth to nourish. Everything else is an escape from its origins.
What you see is you,
you are part of everything.
What you do to her,
you do to yourself.
Love her, love yourself.
Feel her warmth, your warmth.
See her purity, your purity.
Feel her heartbeat, they beat in line with yours.
Because you are one.
Blossom with her, live with her. Be part of everything.
Never be afraid because that is not her intention.
Join her in love.
Be the earth!